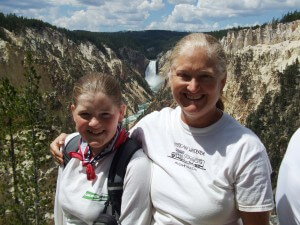 When Lyn Kimberly of Weston, Connecticut talks about her childhood, there are many tales of a Vermont camp on Lake Champlain. She spent 10 years as a camper and a counselor and later married a man who shares her love of the outdoors. For many years they wedged camping and canoeing trips into their professional lives, and then decided to parlay their longtime avocation into an interesting career.

Lyn was first a teacher and then switched to marketing research. Her husband, Chris, spent many years on Wall Street. For three summers Lyn was able to return to her childhood camp to run an outdoor program—and, bitten by the camp bug again, she and Chris actually made an offer when the property was for sale.  
When the deal fell through, both Lyn and Chris were between jobs. With an unusual amount of time on their hands, they seized the opportunity to take their family for an extended trip to the American West. For a long time they had wanted to explore the national parks—and in three months they traveled 10,000 miles through 30 states and all the iconic parks.
As they traveled back to Connecticut, they thought a lot about their professional careers and the fact that they no longer wanted to work in a traditional way.  They also liked the idea of working together, and finding work that would give them the chance to spend a lot of time with their two daughters. Still having entrepreneur cravings and thinking about the idea of running a camp, they recalled that they had seen very few American visitors in the national parks—and no middle or high school age kids.
On a major highway miles away from home, Lyn and Chris started thinking far outside the usual camp box. Instead of buying a stationary camp in Vermont, why not create a moving camp that gives young people the experience of exploring major national parks? They had seen firsthand that 83 million acres of national parks are underutilized—and they liked the idea of giving kids a new learning experience—in a new setting—each and every camp day.
They soon got serious and their company, American Wanderer was born. They bought  RVs and trucks and hired a small staff. They created four camp programs—each two weeks long and focused on visiting six to eight parks. They drew on all their past marketing and finance experience and introduced their new camp at fairs nationwide. They developed a web site, a blog and relationships with influential camp consultants. And they held their breath and saw their first session fill up. 
Now American Wanderer has operated successfully for six years. Their target is the 11 to 17 age demographic, and they have shown hundreds of kids national parks they might never have seen. Their campers are from all walks of life—suburban kids looking for a different camp experience and inner city kids who have barely spent a day in the outdoors. 
As business partners Lyn and Chris divide and conquer. Lyn is primarily focused on marketing, and Chris handles web site development and running the business behind the scenes. They created a foundation, and both have a hand in scholarship funding—particularly for at-risk military kids. Two brains are better than one as they create a fascinating curriculum that disguises learning in a whole lot of fun. 
When American Wanderer campers visit the Grand Canyon, for example, they spend not the typical tourist's three hours—but three full days. They hike below the rim, search for seashore fossils at 9,000 feet, explore the Indian ruins and experience many changes in temperature as they travel deeper into one of the natural wonders of the world.
Drawing on her teaching roots, Lyn says that their camp finds ways to show kids real world connections to the textbook facts they learn in school. Up close and personal, the kids see, for example, the ramifications of global warming, begin to understand how Colorado was covered 11 times by ocean, experience Yellowstone as the inside of a volcano and get a perspective on how the Grand Canyon was once the ocean floor. Kids find all this fascinating—and those who come to the camp as poor students return to their classrooms with greater enthusiasm and achievement.
While all this fun and learning is going on, the Kimberly daughters (ages 15 and 17) help to lead the Indiana Jones-like adventures. The girls organize games and hikes and motivate kids who have never walked more than a few paces to climb up to elevations of 14,000 feet. They've met fellow campers from 39 states and South Africa, France, Italy and Spain.
Lyn says that she and Chris have found an entirely different way to work—and a way, as a family, to change lives. "Our campers go out of their comfort zones, stretch their thinking, take on new physical fitness challenges and see the beauty of America's natural resources." And the couple makes sure, through all that wandering, that campers find new paths for their lives. —KAS
Visit the American Wanderer web site at www.americanwanderer.com
Like this post?  Please click "like" below and take one minute–literally–to sign up to be an official 9 Lives subscriber here!