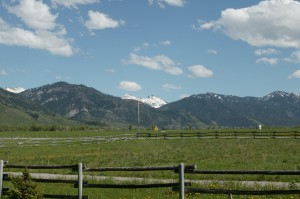 Just about all professionals are concerned with work-life balance. Not so many spend as much time thinking about their work-life view. Deb Martin (a freelance writer and editor originally from Westchester County, New York) and her partner Jim Richards (a photographer and technology consultant who spent years knocking around the Rocky Mountains), think first about where they can have the best quality of life and then figure out how they can work where they want to spend their time. They're not just dreamers, they're implementers–masters of geographic reinventions they meticulously research and carry through.

The couple met more than 20 years ago on a trail ride through the Arizona mountains when Deb lived in New York City and Jim had just left San Francisco.  From that point on mountains were usually in their view. Other than three months in Deb's Manhattan apartment (when they were deciding whether to take their relationship long-term), they've never chosen to live in a big city. For more than two decades they've called ranches, farms and other wide open land home in Idaho, Montana, Colorado and Wyoming–with dogs, horses, beautiful vistas and no kids.
The fact that Deb and Jim do not have children probably makes many readers stop and say: easy to keep choosing new and remote places to live when you don't have to educate kids. Maybe true, but when Deb and Jim are ready for a new home, it's not a simple matter of getting the moving van to appear. All their possessions do not fit into one bag, car or truck. And the places they live and the scale of their moves make it impossible to rely on moving companies at all. It's always a do-it-yourself operation:  the last move, 700 miles from southwest Colorado to Wyoming, took three months and six trips of  caravaning–a move that logged 10,000 miles.
Moves are complicated because the couple's rural life has lots of interesting baggage. Two dogs, four horses, several cars, a pickup, a Farmall 560 tractor, a 30-foot flatbed, two horse trailers, boats, kayaks, a complete shop, tack–on top of personal belongings, household effects, and all the stuff of two home-based businesses.
For nearly three years Deb and Jim have happily settled in to their Wyoming ranch, but wanderlust has struck again. This time the lure is water and Jim's desire to return to the sailing he enjoyed during his youth on the Oregon coast. After nearly two years of careful research and many exploratory trips, the couple is orchestrating another geographic reinvention: a part-time, but ongoing adventure they're planning on the Washington coast. They've added a 30-year-old, 26-foot wooden schooner to their belongings and a trailer they'll live in on land.
For the frequent trips they'll make to the Pacific Northwest, there's no easy or inexpensive babysitting service for the ranch. Dogs will be along for the sails, but horses will stay put and still need care. Irrigation systems need to keep running. Hay needs harvesting. Twenty-five acres of land need tending. If a snowstorm hits (which isn't only in mid-winter where they live), the property must be cleared so the horses can be fed and Deb and Jim can make it into the driveway when they return home.
And the money that runs the ranch and buys the new sailing adventures has to keep coming in. Both Deb and Jim carefully cultivate a busy and robust client list. Though they live on a ranch and ride horses through the Rocky Mountains, only their Wyoming address is intentionally remote. They are connected to global business far beyond their rural borders, and they have never let location determine their success.
Deb knows she can keep up with clients whether she calls one place home or two. In her Wyoming home office more than 250 miles from the nearest major business city, Deb works through an agent in Boston to land top management consulting and research firm clients in New York, San Francisco, Boston and other US metropolitan hubs.  For a Harvard newsletter she managed teams of writers, editors and graphic designers via conference call and Skype. She ran a New York-based membership organization from Idaho and flew in for meetings throughout the U.S. and abroad. She has checked in with a client in Germany from a tent, and exchanged drafts with a client in Dubai on I-5 between Portland and Seattle from the back seat of a van. Not one of her clients is local and some she has never met. Though she'll try to plan trips west around deadlines, she'll maintain business as usual while sailing on the Washington coast.
Those of us who feel paralyzed when we drive through a patch of spotty cell service need the technology toolkit Deb and Jim have acquired. They're determined to be plugged in and ready for communication even when they're miles from a cell phone tower. A few of of their standbys? A bank of batteries to run and recharge notebooks, camera gear, more than one GPS, AutoNet (a service that provides internet access in the car) and a special antenna to boost the Skype signal when teleconferencing from thickly wooded campsites in the Northwest.
In Deb's view, it makes no difference where she lives because she can always plug in to work. It certainly makes no difference that she is working at home. She notes that technology and 24/7 global business activity force many professionals to work at home at least some of the time–whether they want to or not.  Though she winced the first time her dog barked incessantly during a phone meeting (when she was on the phone with a CEO), Deb notes that professionals have generally become more relaxed about home office background noise.  It's not unusual now for a crying European child to join the chorus of her barking American dog.
When people say make the most of this one life you have, I think Deb and Jim set the bar. Perhaps we all can't move as freely through life, but we don't have to let our work dictate where we live. That the moral of this story:  where there's an entrepreneurial will, there's a way. Meaningful, interesting, exciting work can be done anywhere, with any view. 
 —KAS
Like this post?  Please click "like" below and take one minute–literally–to sign up to be an official 9 Lives subscriber here!