Now Is A Good Time for A Work-Life Change!
You've been thinking about looking for a more flexible job—or you want to return to work after a hiatus (and you'd never go back to that corporate grind you chose to leave behind!).
But the world has been upside down. You know even high-level professionals who have lost their jobs, been furloughed or taken a major pay cut.
Surely, it seems like absolutely the wrong time to be in the job market.
But it's not! Talented people who search for a job in the right way with the right tools, research and strategy do find interesting, lucrative and professional jobs in any job market, and in any economy.
LAY THE FOUNDATION FOR A PRODUCTIVE JOB SEARCH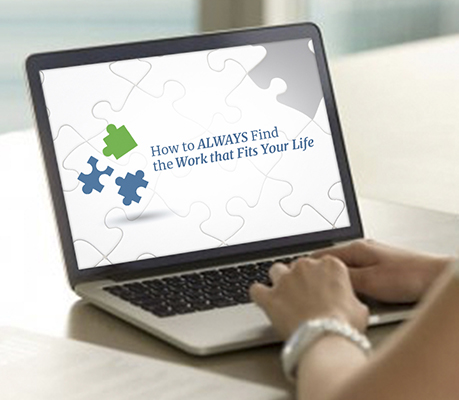 When people are nervous about being out of work, applying to random jobs online makes them feel like they are getting something done. The fact is that applying for jobs without a clear plan is a lot of disconnected activity.
With this course you develop a strong and strategic job search foundation. You'll be motivated and on task—making real progress fast and consistent. The program jumpstarts or revitalizes your job search through 7 pragmatic, straightforward sessions—covering your branding/elevator pitch, resume and LinkedIn profile development, job search communications, networking research, interview tips, and more.
JOB SEARCH BASICS FOR MID TO SENIOR-LEVEL JOB SEEKERS
WHO NEED TO START FRESH & GET OUT OF JOB BOARD HELL
Whether you're a woman who has been home with family for the average 12-year hiatus or an executive who feels great jobs should have already fallen on your lap, I guarantee that you will find at least one golden nugget in this course that will transform your search for flexible work.
You'll get valuable new perspectives on job search basics and learn all your flexible work options today. You can quickly skim or delve deeply into "how to" sessions that cover:
Your personal brand—and how to convey it powerfully in your resume through language, position descriptions and a summary statement that broadcasts your expertise
Your elevator speech—how to make it the solid, roll-off-your-tongue foundation for your networking communications and conversations
Your LinkedIn profile—how to craft a compelling headline and personal "About You" section that grabs the attention of recruiters and invites influential connections
Your networking research strategy—how to master this critical first phase in the job search process that even the smartest job seekers overlook, target potential employers that are a true match for your profile and build relationships that get your foot in the door
Your cover letter—how to persuasively sell your fit for a job using one very simple (but so rarely used) technique
Your interview—and how to anticipate and overcome potential obstacles and position yourself as the best possible candidate for the job.
---
IT'S QUICK & EASY
You progress through the course at your own pace. And don't be daunted by the word "course": you can read through all the sections in a couple of hours, and if you stay focused you can complete everything in a couple of weeks.
What Women Say About the




Find the Work that Fits Your Life Course
"I've been chipping away at your fabulous online course and finally understand how to name my personal brand and zero in on the real value I can bring to employers offering flexible work."
"What a fabulous course. I'm digging in and starting the hard, but necessary work that I hoped I would not have to do. After 40+ years in significant roles, I did indeed expect flexible work to land in my lap. Now I know that won't happen."
"I've just begun your course and feel as if you're speaking directly to me. I've spent the past 14 years focused on raising my children and volunteering in my community. Transitioning back into the workforce is difficult. Thank you for this wonderful resource for finding flexible work!"
LAUNCH A JOB SEARCH THE RIGHT WAY AND
FIND THE WORK THAT FITS YOUR LIFE!