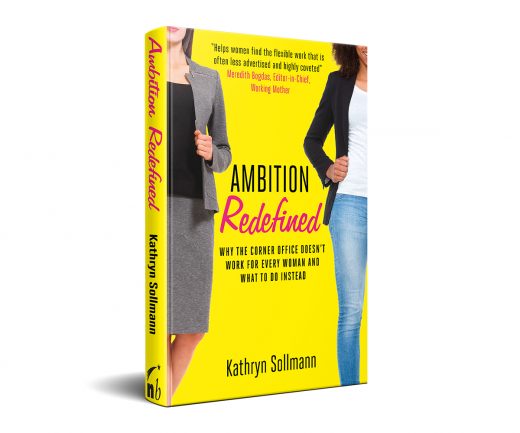 Today is the official launch day for my book, Ambition Redefined: Why the Corner Office Doesn't Work for Every Woman & What to Do Instead. It's a day I've been anticipating for many "soon-to-be-published" months and a moment I've worked toward for four years. This is my first published book, and lots of people have asked me, "so why did you write a book and how did you get it published"?
Like everything, it starts with an idea. Back in 2014 I was writing my 9 Lives for Women blog, coaching current and returning professional women, speaking to women at various events and thinking that something was off in the women and work narrative. I had been helping women navigate many stages of work and life since 2002. I had co-founded one of the first companies focused on getting women back in the workforce after a family hiatus. I had learned that it was too simplistic to say that women were either working or not working—because I talked to so many women who had one foot in and one foot out of the workforce. And I realized that women were making decisions about work and life based too much on emotional factors (too much stress to blend traditional work and family, guilt over long absences from family, feelings that staying home with children is the "right thing to do") and not enough on long-term financial security factors.
At that point I also observed that most women weren't aware that the workplace was really changing and that it was becoming more and more possible to work in a flexible way. Women pretty much across the board would tell me that work time overwhelmed family time. But when they referenced "work" they were really talking about the traditional full-time, in-the-office job that often included a 60-hour commitment, a long commute, lots of overnight travel and 24/7 availability to a corporate boss. Women didn't realize that there are actually six different kinds of flexible work gaining more and more of a foothold with employers of every shape and size.
So I decided to write a book to change women's perceptions of today's professional opportunities. And also to tell them that they were under no obligation to "lean in" to an all-consuming quest to reach the pinnacle of Corporate America, government or the non-profit world. I wanted to show women that it's possible to unapologetically develop your own brand of ambition and success—through work that fits and funds life alongside caregiving for children and aging parents.
It started with an outline and then a manuscript that I pored over for a summer. Then it was time to see if my idea really had legs. I knew the publishing world had changed and that many authors opted to self-publish. I didn't want to head in that direction immediately—at least not before I had attempted the traditional publishing route. I would need an agent because you don't go directly to potential publishers…you need an advocate from the industry who believes in your book and knows which publishing houses are likely to be interested in your message.
I learned that pitching an agent was a huge task in itself. It seemed like I needed to write the equivalent of another book to get agents to notice me: a 100-page proposal that I wrote with the help of a savvy editorial consultant. The proposal distilled my book into a one-page synposis, then summarized each chapter, then compared it to similar books in my niche, quantified my social media platform and finally delved into all my marketing ideas for promoting the book.
With my proposal polished and ready, I then started reaching out to literary agents focused on non-fiction books in the women's interest, career, personal finance and business categories. There are a lot of them! One by one I sent out my proposal—sometimes hearing absolutely nothing, sometimes hearing "not for me" or "we just published a book like this", and sometimes getting a little nibble. I had conversations with several agents who had tentative interest and then one who kept asking me good questions, liked my message and seemed willing to give my book a try. Over lunch with this agent we decided to work together and discussed how my proposal would need to be tweaked for the next sale: getting the attention of publishers in my niche.
I knew I was in good hands. My agent had been the Editor-in-Chief of a major magazine and as a literary agent she had ushered many great books into the world. She had longstanding relationships with all the major publishers and she knew who would likely have an interest in my book. She pitched my book to many publishers and there was first a stream of "maybe's" and "thanks, but no thanks". Then five or six publishers expressed strong interest and I had that first feeling that "my book is actually going to be published!". There was a mini-auction among the interested publishers and then my book went to the highest bidder.
Then my book was a reality. I signed a contract with Nicholas Brealey in Boston (a publisher in the Hachette Book Group of London). My message resonated with this publishing team and they knew that no other authors were strongly saying women should always work (in a flexible way), cultivate financial independence along with family and find lucrative ways to lean "in-between".
Once the contract was signed, I started the process of rewriting my first draft. I was given about four months for this phase—and it was a time that I really needed to dot all my i's and cross all my t's. Everything I wrote (that wasn't my own opinion) needed to be documented. I decided that writing footnotes should replace dental surgery as the hardest thing to do. I submitted my manuscript early—and then breathed a sigh of relief.  
I was very lucky to land a great publisher who really believes in my book and has made the whole process a lot of fun. Once my manuscript was submitted to my editor the copyediting process began—a lot of back and forth, fact checking, wordsmithing, rearranging and making sure that all my chapters hung together. We played with the book title until every word seemed right. We made sure that my introduction would really sing. We worked to create compelling book cover images, they guided me as I found prominent people to endorse my book (including a front-cover endorsement from the Editor-in-Chief of Working Mother magazine) and we made sure that those excruciating footnotes were in proper form.
Finally, more than three years after my book idea was born, my book went off to the printer with a launch date about six months later. Each step in the process was long and complex—with lots of waiting stretches to hear back from agents and publishers before I had a deal. Writing a book was always on my bucket list, and I feel so lucky to be heading to Barnes & Noble 5th Avenue this week to see my idea-turned-book in their iconic window.
Thanks to everyone who supported me, guided me and cheered me on along the way!